Welcome to the MidBoss Wiki
[
]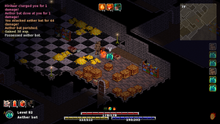 MidBoss is a video game about possessing your defeated enemies in order to become stronger. You play the weakest of the dungeon denizens, an imp with no ability other than possessing other creatures. Your goal is to defeat and possess increasingly stronger creatures, unlocking their abilities for yourself and becoming stronger as you go along, and eventually defeat and become the dungeon's ultimate endboss.
The game is currently available on Steam and itch.io.
Features
[
]
Possess

enemy monsters and gain their strengths and

skills

with over 60 unique abilities to discover and learn.
Permanent death, if you die your save is gone!
Randomized potions every game. Who knows what's in these mystery bottles! (optional)
Traps as well as unidentified and cursed

items

.
Dynamic music system that ups the musical excitement when enemies are about.

Quick Play

mode for shorter, more condensed play sessions.

Custom Games

so you can play the game exactly the way you want to.
Shareable

death cards

document your run and how it ended. Load these in the game for stats or to play using the same seed and settings.
Customize your cards with unlockable themes!
Spend

death cards

to start your next run with items you had when you died.
Beat the game and get a special card which unlocks a

new game+

mode. Start over with your

items

, abilities, or both!
Lots of

crates

,

chests

, and other containers to pillage. Find the

royal chest

that spawns on every floor for extra sweet loot!
Playable with mouse and/or keyboard. Pick whatever control scheme you like!
Color-blind modes, optional high contrast font, and adjustable brightness.
Multiple monitor support and borderless windowed fullscreen.
12 retro mode filters to find and unlock.

Cratefish

.
Useful pages
[
]
Latest activity
[
]